Election officials in Haiti say governing party candidate Jude Celestin will be in a presidential run-off with former first lady Mirlande Manigat.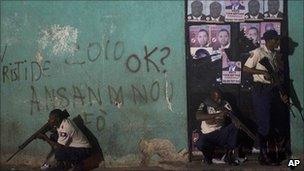 Ms Manigat won 31% of the vote and Mr Celestin 22%. Pop star Michel Martelly polled just over 21% but, as things stand, misses out on the run-off.
Violent protests broke out in the capital Port-au-Prince after the results were announced.
Most observers say the first round of voting was grossly mismanaged.
Voters will now decide on 16 January who will succeed President Rene Preval.
An electoral official announced the results to journalists in a crowded restaurant in the capital Port-au-Prince on Tuesday.
Burning barricades
Correspondents said the streets of the capital were tense and gunshots could be heard near the restaurant in the smart suburb of Petionville.
After the results were announced, burning barricades were set up near the restaurant and Martelly supporters threw rocks at passers-by.
The close result between Mr Celestin and Mr Martelly – 6,845 votes – has led to calls that the singer-turned-politician also be included in the run-off.
The joint mission from the Organisation of American States and the Caribbean Community said officials could consider putting a third candidate if the vote is nearly tied.
"If they don't give us Martelly and Manigat (in the second round), Haiti will be on fire," said one protester, Erick Jean.
Mr Martelly had said he would not accept a place in the run-off if Mr Celestin is present.
He has until 10 December to launch an appeal.
US concern
UN Secretary-General Ban Ki-moon has described irregularities in the election as "more serious than initially thought" and opposition supporters have staged several protests, demanding the vote be annulled.
The US embassy in Haiti said in a statement on Tuesday that it was concerned that the results were "inconsistent" with vote counts observed around the country.
"The United States, together with Haiti's international community partners, stands ready to support efforts to thoroughly review irregularities in support of electoral results that are consistent with the will of the Haitian people expressed in their votes," the statement said.
Haiti is in the grip of a cholera epidemic which has so far killed more than 2,000 people.
The country is also struggling to recover from last January's earthquake that killed 250,000 people and destroyed large parts of the capital.