•
Provisional date of 16 January set for decisive contest
•
Further violence feared amid fraud allegations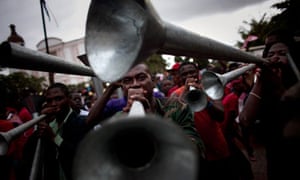 Haiti was today preparing for the results of troubled elections that have generated fraud charges, protests and sporadic violence, and which and are widely expected to go to a decisive second round in January.
More than a week after the UN-backed presidential and legislative vote was held amid scenes of confusion at some polling stations on 28 November, the Caribbean country's provisional electoral council is due to announce the preliminary officials results later.
Out of an original field of 18 candidates, the presidential contest is seen by pundits as a three-horse race between the former first lady Mirlande Manigat, the popular musician Michel Martelly and the government technocrat Jude Celestin, who is a protege of the outgoing president, René Préval.
For a first-round win, a candidate would need to gain more than 50% of the votes. With the open presidential field making this unlikely, a runoff between the two leading vote-winners would be held. This is provisionally set for 16 January.
Media reports citing unofficial results have predicted a runoff between Martelly and Manigat.
The international community hopes the elections, held amid a deadly cholera epidemic, can produce a stable, legitimate new leadership to lead the recovery from the huge earthquake on 12 January, which killed more than 250,000 people.
But since the 28 November vote, UN peacekeepers and international election observers have been grappling with repeated allegations from more than half of the 18 presidential candidates of "massive fraud", recurrent street protests and fears of worse violence.
The UN peacekeeping mission in Haiti, Minustah, which has more than 12,000 troops and police deployed in support of Haitian police, has appealed to candidates and their supporters to remain calm, respect the law and avoid violence.
The joint Organisation of American States/Caribbean Community (OAS/Caricom) election observer mission said in a statement: "This coming phase in the electoral process requires a peaceful and serene atmosphere."
While acknowledging "the irregularities, the disorganisation and the incidents of vandalism and violence which had marred election day", the OAS/Caricom team has cautiously endorsed the polls so far as generally valid.
The group of presidential candidates alleging fraud and calling for a cancellation of the vote sent several thousand noisy protesters on to the streets of the capital over the past week and warned there would be more unrest if the elections continued.
Adding to the tensions, Martelly has said he will not accept a result that puts Celestin in the runoff.
Martelly has repeatedly accused Préval, Celestin and their Inite (Unity) platform of trying to steal the election through fraud and manipulation of the provisional electoral council, a suspicion that finds resonance among many poor Haitians.
Michine René, 32, a street vendor, said: "If Martelly isn't president, the country will explode. They're going to cut heads, burn houses. There will be civil war. We voted for him and we demand they listen to our votes."