Georgianne Nienaber: New Haiti Cholera Warning, Vaccine Questions, and "Squatters" Vulnerable: "

While all eyes were on Sarah Palin's visit to Haiti this weekend, Dr. Jocelyne Pierre Louis, Director of Haiti's Department of Public Health and Population (MSPP) predicted a new outbreak of the cholera epidemic, particularly in Port-au-Prince and the Metropolitan Region due to the unsanitary conditions in the city, according to Haitilibre.
Haitilibre alerted us to this warning through social networking on Facebook and the Huffington Post. Pierre Louis warns that riots and demonstrations in Port-au-Prince resulted in the destruction of portable toilets and garbage bins, scattering feces and waste in the streets surrounding IDP camps in the central city. The camps at Champs de Mars are especially vulnerable and residents are urged to go immediately to Cholera Treatment Centers (CTC) located in the hospitals of Doctors Without Borders (MSF) and the Hospital of the State University of Haiti (HUEH) at the first sign of diarrhea.
Since the outbreak began on October 19 almost 100,000 people have been infected and over 2,100 have died. Numbers are lagging because the last report form the MSSP was December 6 and it is believed that there is gross under-reporting of the numbers in rural and inaccessible regions.
In what would seem good news, the New York Times and others reported that WHO wants to administer an unapproved cholera vaccine as a quick fix to deal with the epidemic.
'Quick fix' is my term and let's discuss that.
The Pan American Health Organization (PAHO), which represents the World Health Organization (WHO) in the Caribbean, announced that that there might be one million to two million doses of oral vaccine in the world, not just the 200,000 it originally thought, according to the NYT. They quoted Dr. Jon K. Andrus, the Pan American organization's deputy director. PAHO scheduled a meeting in Washington this week to discuss whether or not to buy the vaccines.
First of all, how could PAHO not know about the existence of up to two million doses of vaccine? It's not like they found the drugs lying around in a garage somewhere. Critical thinking begs that this question be answered.
Secondly, no one is asking exactly how effective these vaccines are. Why is WHO recommending them when their report of the 2006 Global Task Force on Cholera Control questioned the use of two-dose oral vaccine in Indonesia after the 2004 tsunami.
The evidence gained from this mass vaccination campaign highlighted the limitations of using a two-dose vaccine in a crisis situation and will help WHO to issue recommendations on the use of OCVs [oral cholera vaccine] in complex emergencies settings.
This mirrored the situation in Haiti, where there is absolutely no infrastructure in place to carry out a vaccination program of this scale. You don't just hand out cholera vaccine like candy. There were additional concerns of cold storage, packaging of dosages and disposal of the hazardous waste. Worse, there are issues of non-compliance, mobility of the displaced people, and religious reasons for refusing the vaccine.
According to a first rather optimistic planning schedule, the project [Indonesia] would be completed by the end of March 2005. Unfortunately, an immunization campaign of such scale, and in a difficult environment in terms of logistics and security, could not be carried out so quickly. The preparation phase, including logistics, micro-planning, identification of human resources, training and social mobilization, needed to be carefully undertaken before implementation could begin.
There is another report on MedScape, 'Cholera Vaccines – Anything New? Not Really!' written by Joshua Nosanchuk, MD, an infectious disease specialist. He discusses protection percentages as well as the fact that cholera immunizations should not replace prevention and control.
An important caveat for those in the US is that the US CDC does not recommend cholera vaccines for most travelers AND no cholera vaccine available in the US. The basis for this lack of approval/availability is the relatively poor performance of the oral vaccines, which provide incomplete protection (at best 85%) and the protection is short-lived. However, this should be taken in the context that some other vaccines, such as influenza vaccines, produce only about 70% protection! Hence, many question the rationale of the CDCs decisions regarding the cholera vaccines. However, the oral vaccines require two doses separated by at least one week to induce a protective response within several weeks. Therefore, vaccination should not replace standard local prevention and control measures during cholera outbreaks.
'Although there are lots of words written and many vaccine initiatives in progress, at present for cholera we are still largely left with appropriate hand washing, drinking only purified water, and 'boil it, cook it, peel it, or forget it'
A correlating issue on oral vaccines is that children living in extremely poor and unhygienic areas may have suppressed capacity to respond to immunizations, Nosanchuk said.
Infectious disease specialists will also say that there is no substitute for clean water and septic systems, which represent a tiny fraction of the cost of a massive oral vaccination program that will, at best, slow the course of this cholera epidemic in Haiti. The New England Journal of Medicine recently called the Haiti strain 'a particularly virulent strain.'
So we are back to square one, eleven months post earthquake, and Haitians are left holding their vomit buckets as they lie defecating through the holes on their cholera cots.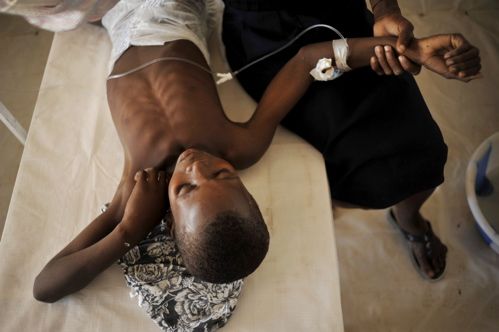 Photo by Leah Millis used with permission
There is an issue that the press has not dealt with besides the lack of water and sanitation infrastructure, and the onus falls squarely on the back of the Government of Haiti (GOH) and NGO's that are cooperating with this policy in order to receive money and function without government harassment.
This is the 'good camp,' 'bad camp policy.' It boils down to this, if the government does not recognize you as an approved IDP camp, NGO's are not allowed to help you. That means, in some situations, not setting up infrastructure so IDPs can survive in order to discourage a permanent community. The GOH does not want you, especially on land owned by the Ministry.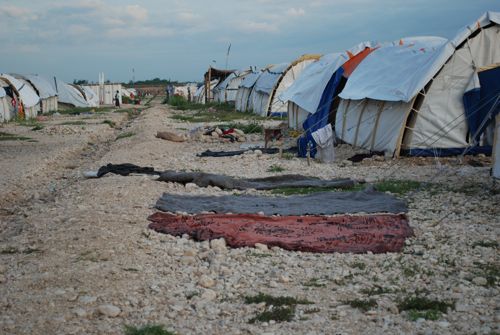 'Good Camp' Corail
I'm not going to name the NGO, because they gave information freely. But the information provided by an American NGO operating in the government showcase, Camp Corail Cesselesse, is especially troubling in light of the cholera epidemic.
I posed the question as to why Camp Canaan, the ignored 'bad camp' with upwards of 8,000 displaced, has not received any aid except for some latrines provided by the Irish NGO Haven and a water bladder from Action Against Hunger (ACF). Canaan is within eyesight and earshot of Corail. I was chastised by this NGO for calling Canaan IDPs 'residents' instead of squatters. I was also told I should not say they have leaders, because 'squatters' do not qualify as a camp and therefore do not have 'leaders.'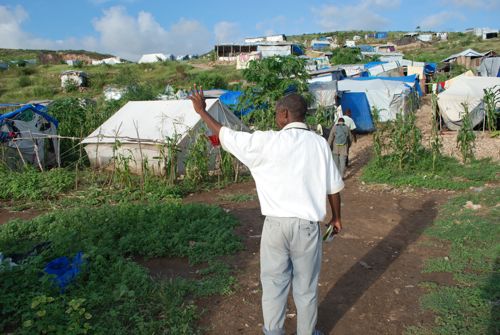 'Bad Camp' Canaan with 'squatter' leader who happens to be a pastor setting up a classroom there
Readers, don't blame me. I am the messenger who is not particularly happy with this message.
Why are residents of Canaan, who were in place in March of 2010 called 'squatters' by the GOH, while resident of the Corail, the 'flagship camp' established by forcibly moving people for Port-au-Prince in April, are legitimate 'residents'?
The answer is stunning and just plain wrong. This from an American NGO:
As regards Canaan and the squatter area: A lot has changed since April. It is true that some 'squatters' have been there since the quake struck, but at present the population is estimated at 100,000 – 120,000. Everyday, even of the past two months, more and more squatters arrive; ACF which has has provided limited assistance in Canaan (without Government approval) providing potable water and wat/san messaging was recording 1,000 arrivals per/day at one point. The reason why humanitarians are not providing comprehensive and systematic assistance to the squatter area is because the Government has decreed that any persons residing there are illegal occupants, only Corail camp has been formally approved for IDPs. The Ministry of Finance (which is the nominal owner of the land) has publicly stated that no humanitarians are to provide support to illegal squatters, especially assistance that may be considered semi-permanent/permanent, such as latrines and health clinics.
But, we saw an Irish NGO, Haven, trying to offer assistance to Camp Canaan.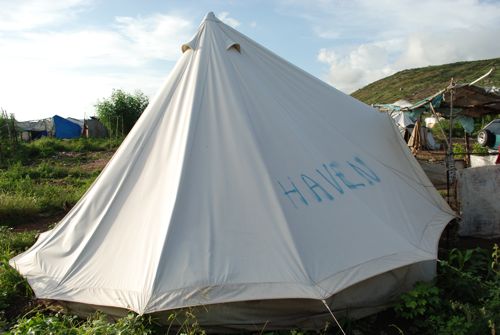 Haven tent for elderly and infirm at Camp Canaan
What about the threat of cholera in an area adjacent to the 'good camp'?
My teams (who are supposed to only work within the perimeter of Corail Camp), and despite the lack of clear approval from the Govenment, went into Canaan last week to do cholera prevention information campaigning. They took the opportunity to ask approx. 1,800 squatters many questions. Overall, respondents stated that they hoped assistance would arrive to them too (in fact they expect it to arrive eventually), many were building permanent cement structures and were set on staying there for the long run.
I asked a Haitian friend about this policy and he was incensed.
That's true but how many ' illegally occupied land' got aid by various NGOs all those IDP camps (Public Parks in PAP / empty spaces / soccer fields / schools / Petion ville Club itself and many others) why are they indexing Canaan 1, 2, 3. ? Is it because they are too close of Corail ? Remember that Haven helped them with latrines and ACF or an other ngo are still supplying them with water trucks. And others gave them tarpaulins and tents.
So the question seems to be that residents of some camps are being given enough aid to keep them alive, but with no permanent sanitation and infrastructure, while everyone is vulnerable to cholera.
Cholera will be the great equalizer in the 'good camp' 'bad camp' debate.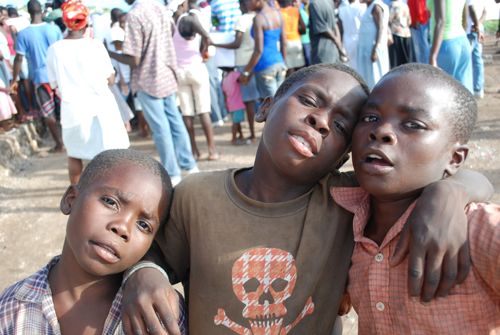 'Squatters' at risk for Cholera in Camp Canaan
The bottom line remains sanitation infrastructure and if the WHO's plan to institute a cholera vaccine program that is unproven, untested and seemingly unreliable according the WHO's own studies, the result will be panacea as far as the world is concerned. There is great risk that conventional wisdom will decree that Haiti is out of the woods because there is a cholera vaccine when all indicators point to the possibility that things stand to get much worse.
It is at Haiti's peril that this vaccine experiment will become yet another test case for the third world and another social and medical experiment conducted at the expense of a vulnerable population.
####
Photos by G. Nienaber (use freely)
Read more: Haiti's Department of Public Health and Population (MSPP), Haiti Earthquake, Nyt, Who, Cholera, Cdc, New England Journal of Medicine, Paho, Sarah Palin, Haiti, Haitilibre, Medscape, Social Networking, Facebook, World News
"