GeoEye And Google Elevate Insight: Destruction In Haiti, Then And Now
On January 12, 2011, the people of Haiti marked the one year anniversary of the 7.0 earthquake that devastated their country.  It's been a year since the disaster and signs of improvement dot the landscape. But 1.2 million people still make their homes in tent cities and the destruction can be seen from miles above Earth.
The New York Times has created a sobering interactive feature using aerial photos from GeoEye and Google Maps to show Port-au-Prince before and after the earthquake in Haiti last January.
Using the application it is possible to view aerial imagery from both before and after the earthquake, and includes shots of the tent cities that were created after the quake as well as the damaged structures in the city and the UN logistics relief operations base.
The photos below capture Haiti's only golf course that has been filled with makeshift tents. The transformation of the Pétionville tent city, a golf course that now houses an estimated 60,000 displaced Haitians, was documented thoroughly on Google Maps, which uses satellite imagery provided by GeoEye.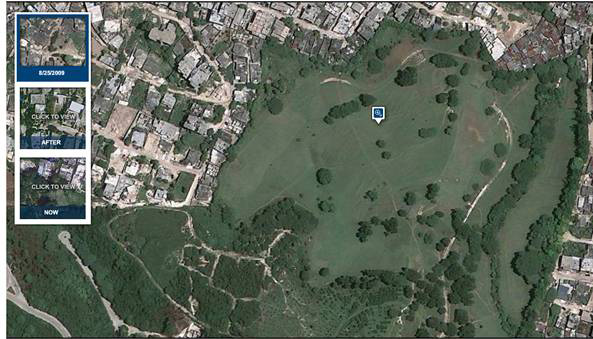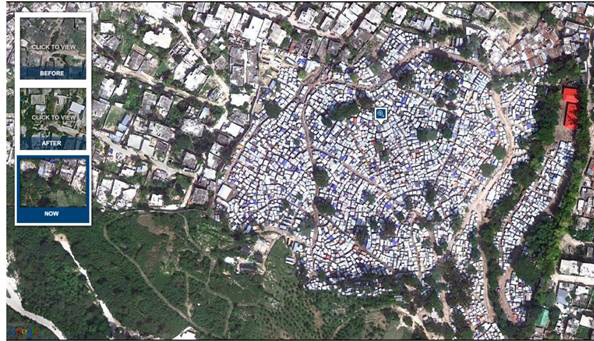 For those people on the front lines of the Haiti rebuilding effort, the NYTimes.com feature can serve as an interactive look back at a pre-earthquake Haiti. The before and after images can help guide rebuilding efforts to where they're needed most.
A Look Back
In the immediate aftermath of a 7.0 earthquake, Google was asked by relief organizations and users to show images of what was actually happening on the ground.
In partnership with GeoEye, Google released a new layer for Google Earth with their most recent satellite imagery of Haiti, showing post-earthquake devastation. The new post-earthquake images were available as a KML overlay for Google Earth. They were also viewable using Google Maps.
The imagery showed a powerful glimpse into the destruction in Haiti. Here are before-and-after screenshots of the Presidential Palace and an area of Port-au-Prince: